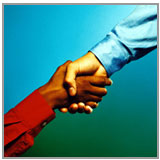 J C Club
Christian Young People leading in Bible Study!!!
Please join us every Thursday in the school Library from 7:30-7:45 for Bible Study!
J C Club (Jesus Christ Club) was started by a group of Ms. Roberts' 4th graders in 1999! We are currently in our 9th year of leadership as Christian students on MMJHS campus! Each year, a small group of 6th grade students lead worship for younger grades. J C Club is very active in setting high ideals and morals within our campus and our community. "See You At The Poll" rallies are coordinated by J C members as are various community projects each year.
Bring your Bible and COME JOIN US!!!